I woke up to the sound of a text from the local authorities, one of two flood alerts we received this morning. I thought the Goodwin weather Gods would catch up with us again and wow they certainly did!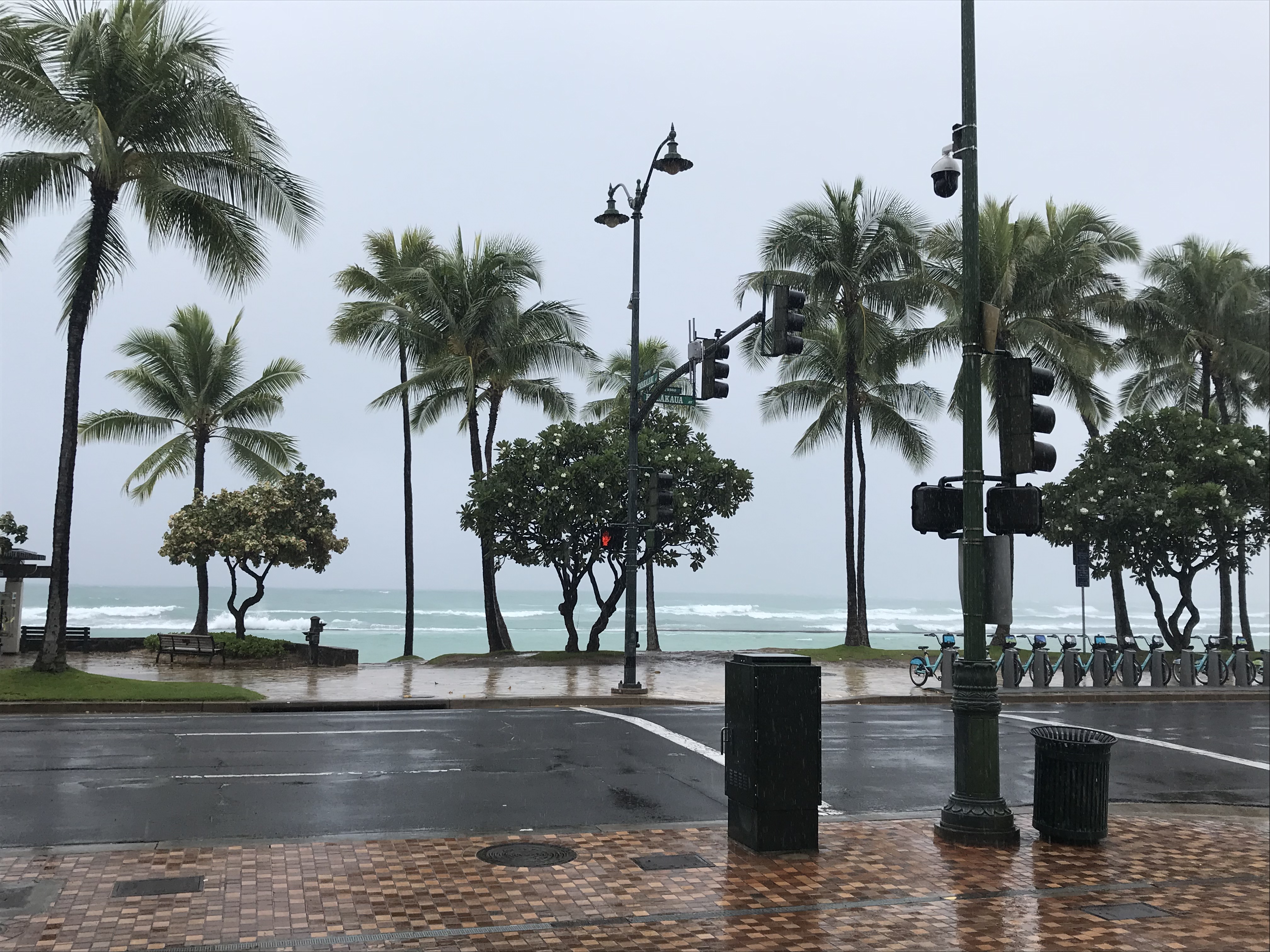 The rain is horrendous. So much for relaxing watching the surf in the sun. Thankful that we are now in a hotel and not in the sea level cottage we were in earlier this week.
We went out to breakfast and our clothes and even my handbag were soaked through. And it was only round the corner from our Hotel!!
With nothing else do to given the weather I thought I would visit the Apple store and look at the latest iPhones. My phone on this trip has been my notebook, camera, video recorder, map book, restaurant guide, diary as well as my main communication device for emails and social media (and making or receiving the occasional call!!) It had taken its toll on the battery and the phone appears to last only half a day before needing a recharge.
I thought it was a good opportunity to review the new phones. I was very impressed with the camera on our daughter's new Samsung phone and wanted to see how the latest Apple compares. The Apple staff were helpful as always even though they knew I wouldn't be buying from their Honolulu store, but I would be making a purchase on return to the UK.
I left the shops and thought I would walk back along the beach, it would be less flooded than the sidewalks (pavements). I had already walked through ankle deep water and my shoes and socks were soaked!
Walking back along this famous surfing beach I thought it must have been a wonderful beach once upon a time without all the shopping malls and high rise buildings. A few people were swimming or surfing in the sea whilst the rain continued to pour. Not for the first time did I comment to myself that Oahu isn't this green for nothing. At times the island is like living in a greenhouse which gets watered regularly. It is so lush and so humid. One day we had 98% humidity. It was a lot better along the shoreline.
Walking back I noticed quite a lot of homeless people trying to shelter from the rain. I felt for them, many were fast asleep and were obviously used to these tropical conditions.
As I walked back I noticed a statute paying tribute to Duke Kahanamokou, The Father of Modern Surfing.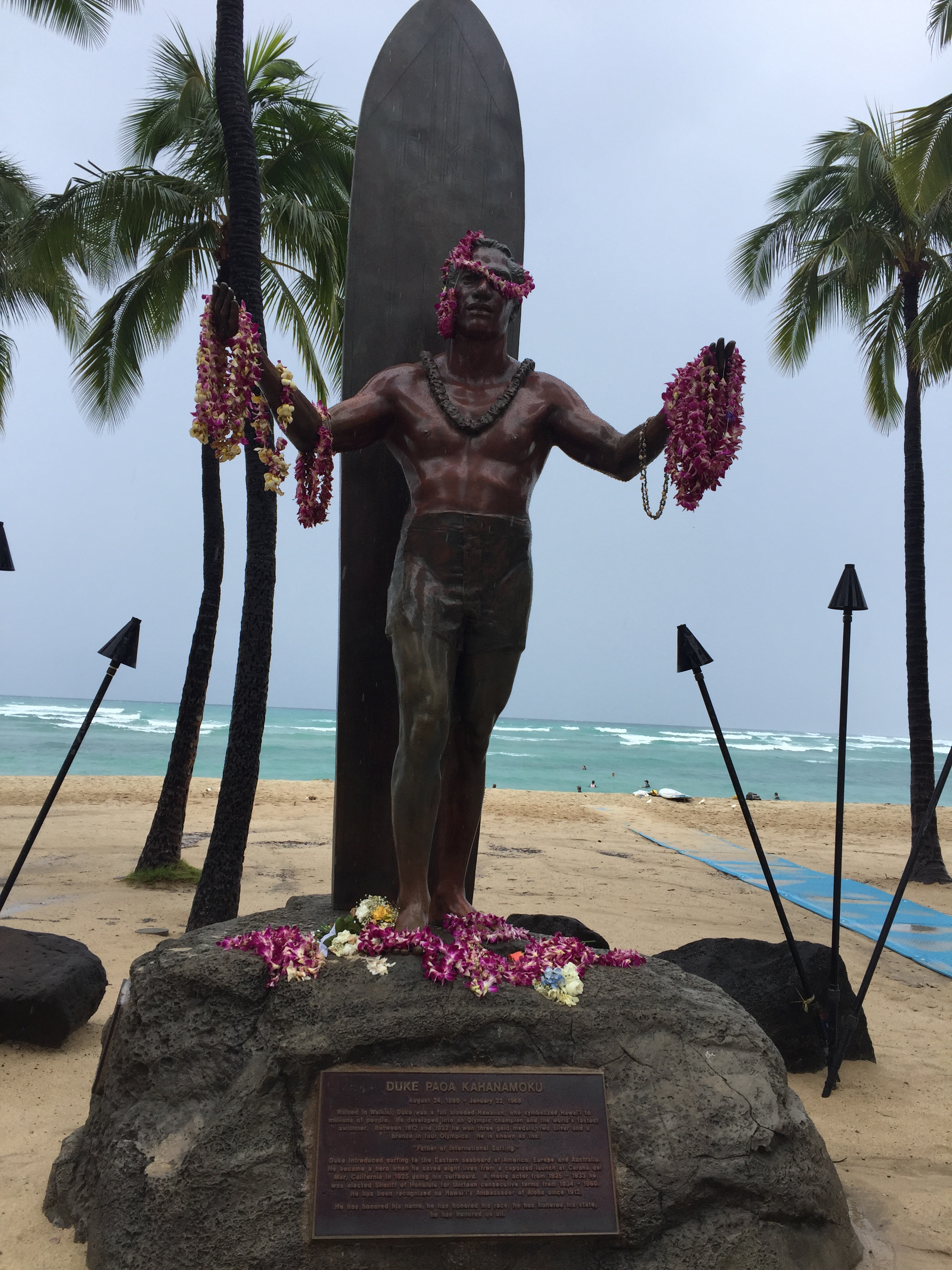 Another point of interest was a really unusual tree. I don't know what species it is, but I have never seen roots on a tree like it. Very weird and given the level of Halloween decorations around the place it seemed fitting.
I tried to 'dry out' with a coffee and a delicious biscuit from the homemade Hawaii Cookie company just round from our hotel. The smell when entering this shop was lovely and very enticing.
Then as we were getting ready for dinner, it was suddenly as though a bright light was shining into our hotel. It had been so grey and dark all day and now just before sunset, the sun put in an appearance. On the balcony of room on the 22nd floor, I was able to watch the sunset over the sea. It was a stunning view. This seemed quite nostalgic given that this was to be our last night in USA.
We enjoyed a family dinner in the Hotel Tiki bar which was excellent. We only had a light meal and a couple of drinks all served with the Hawaiian hospitality we have experienced in so many places (although not all!)
So today is our last full day, we had hoped for a chill out day relaxing by the pool or on the beach, but it was not to be, nature had other ideas. And given that over our 32 days we have had some good weather I cannot complain.
So tomorrow sees us leave Waikiki, Oahu, Hawaii as we return to the mainland in Los Angeles for our connecting flight to the U.K.
We only saw a glimpse of the beauty that is Hawaii when you consider how many islands make up this state. Thinking about the stunning scenery and beaches along the North Shore of Oahu island will always bring a smile to my face.
One final Aloha
Ax