Camino Inglés – March 2022
For me this was an ambition I had held for over 20 years, to walk one of the Camino de Santiago routes and following the global pandemic this Spring seemed an opportune time to actually 'do it'. If not now, then when???
Day minus One: Sightseeing around Ferrol
Face planting with the kerb!!
Overnight at: Hotel Alda El Suizo, Ferrol
The hotel was in an excellent location right on the Camino close to bars and shops and a short walk to the marina.
The marina area has a few bars as you would expect and we enjoyed a pleasant drink taking in the atmosphere and thinking about the camino experience which would take over our lives for the next 6 days. But the drink was not the reason for my fall!
I wanted to see into the Cathedral and maybe get my first stamp on our credentials document. But in all the excitement, my foot had an argument with a cobble stone and I went flying (or tumbling) onto the pavement arm first followed by my face!!! Fortunately, despite a lot of bleeding on my head, there was nothing broken and no stitches were needed. I was just left with the embarrassment of falling before the walk had even begun!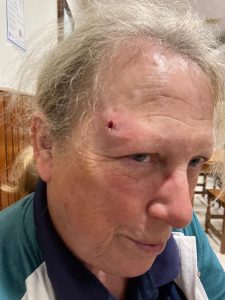 We had a meal in a local restaurant and the owner took pity on my head giving me a 'bolsa de hielo' a bag of ice!
This old city has a natural harbour and as such, Ferrol is steeped in Naval history and is still an important base for the Spanish navy.
Day One – Ferrol to Neda:
30th March 2022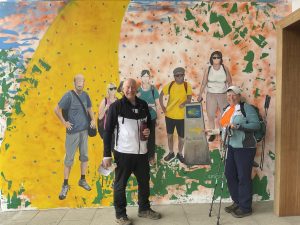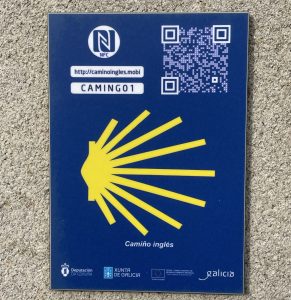 We made our way to the Tourist Centre, opposite the marina, to get a map of the Camino Ingles and the all important first compestella (the pilgrim's stamp) which would prove we had started our walk over 100kms away from Santiago.
The walk took us out:
through the town centre and past our hotel
through the outskirts of town and many Spanish navy buildings
though a park and industrial estate
under a railway bridge
alongside the coastal path
towards Neda town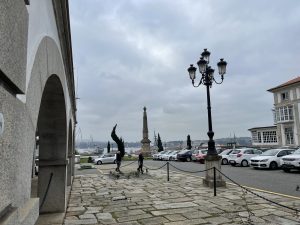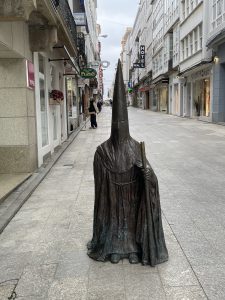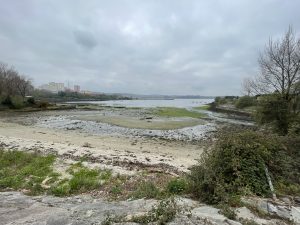 The disappointing issue for us at Neda was the town seemed closed! A couple of bars were open, but the albergue was closed and there seemed no perigrinos in town!
After wandering around Neda checking in the bars, all restaurants were closed!
We eventually walked out of Neda in the opposite direction from the Camino and found a place called Paul Pepe. It had the feel of an ex nightclub from the 60s or 70s or an ice cream parlour! But the food was good and we were greeted with a very nice little Tapas before dinner.
Do day one was supposed to be a gentle walk, but we ended up walking an additional 4 miles in search of dinner!
We were told that the places only open from 1st April when most pilgrims start the Camino Ingles.
Overnight: at Pensión Maragoto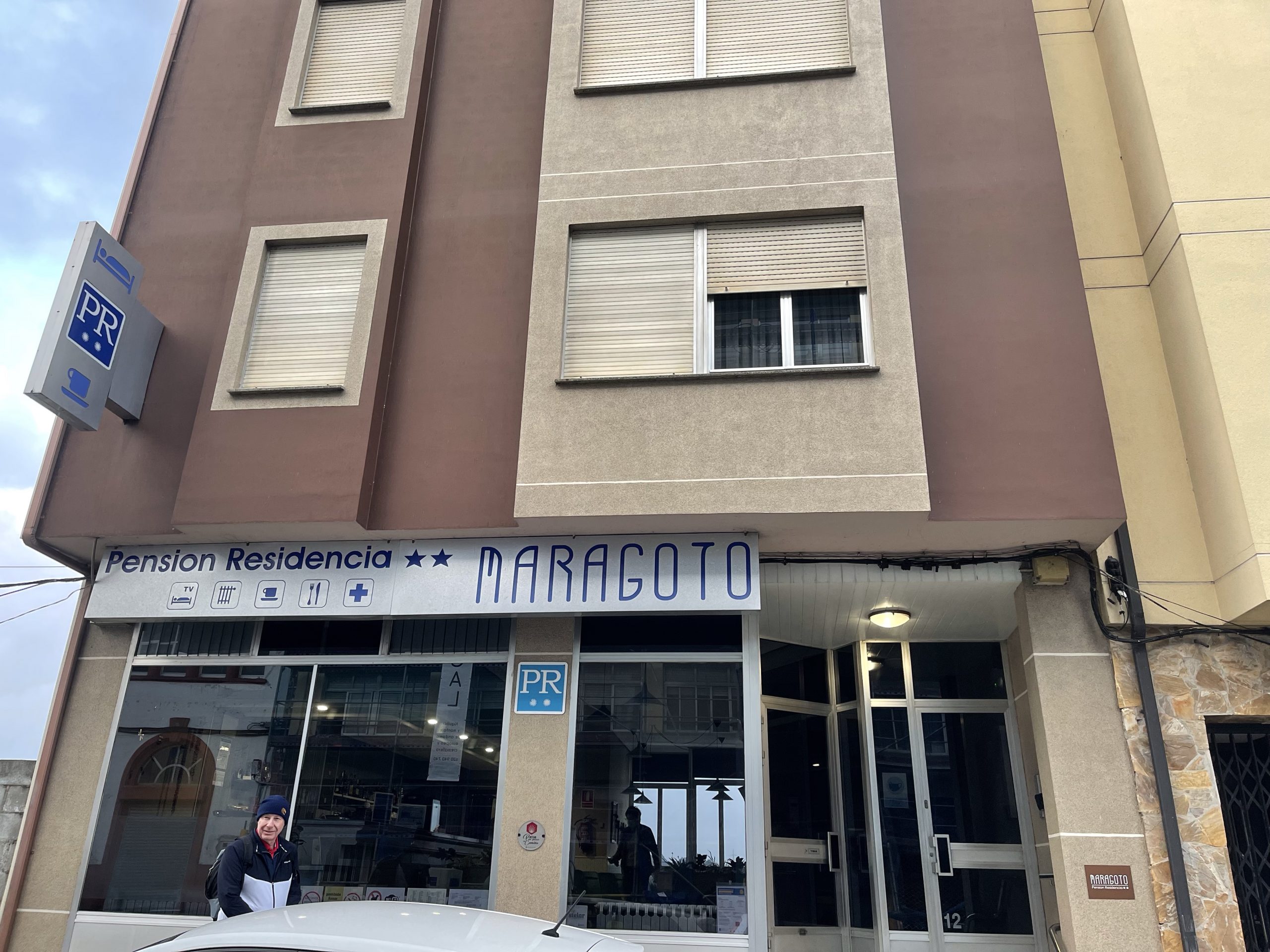 Day 2 – Neda to Pontedeume:
31st March 2022
xx Miles completed
Day 3 – Pontedeume to Betanzos
31st March 2022
15.75 miles completed
We left the town and climbed straight up past the church, from sea level this goes to 166 meters (544 feet) in over only about 1.6 kilometers. And in pouring rain!!! We felt like real pilgrims but at least we had our Gortex waterproofs not like the pilgrims from the Middle Ages!!!
One interesting point we went past a golf course, but we didn't have our clubs so followed the Camino markers rather than the golf ones!!
The rain came and went and after walking for about 6miles found a lovely cafe. The lady did not mind that we brought a trail of wet in with us. The hot drinks and biscuits were just what we needed!
We walked through some great scenery as we went up and down the hills – it's ok going up, but the knees don't like going down!!!!
Walked into Betanzos and met fellow peregrinos at the bar to enjoy a well earned drink!
I am told tomorrow is an even harder day!!!
Buen camino!
Day 4: Betanzos to Hospital de Bruma
1st April 2022
19.3 miles completed
We left knowing today was going to be the most arduous of our days on the Camino Inglés. And it was tough!!!!
But, the scenery was fantastic as we climbed up through the forests. The smell of the eucalyptus trees was so refreshing.
We didn't see any fellow perigrinos on our walk today. Maybe we were slower than them and they had all left Betanzos before us.
We stopped at around 11:30 am at small roadside bar where the locals were already drinking and playing cards!!! They were all very hospitable and wished us a buen camino.
An hour later as were were coming out of the forest we spotted a Camino museum and bar. It would have been rude not to stop!!! It was a lovely place and a tortilla and drink went down well before we set off again.
We walked for a few more miles and found a picnic area by a reservoir. Knowing we had the toughest climb left as we had to get up to 1600feet, we decided to rest!!
The final climb gave us amazing views and thankfully the weather was clear. In the distance we could see the Atlantic Ocean.
We then had a long downhill section to this hamlet where we are staying tonight. It was established originally as a hospital for the pilgrims!!!
Our accommodation is in an albergue – a traditional pilgrim refuge. Although this looks a lot more upmarket than the original albergues!!!
Off to the bar now and meet up with fellow perigrinos!!!
Day 5 – Hospital de Bruma to Sigüeiro
2nd April
17.5 miles completed
We left Bruma (which got its name after providing a hospital or hospice for the pilgrims).
We stopped for coffee beside a mix of Christian statues and dinosaurs!!!
A few miles later we stopped for lunch at the last bar before Sigüeiro.
The walk took is through a lot of forests and then the last few miles were on an old path that ran next to the motorway. It seemed odd having a modern toll road next to this ancient path.
We made it into Sigüeiro where we stopped to see some of the plaques of other pilgrims including the First Lady pilgrim who made it 800 years ago!!! Bet she wasn't wearing decent walking boots!!!
We arrived at our traditional pilgrim hostal where we bumped into fellow peregrinos.
Tomorrow will see us walk into Santiago on the final day or our walk.
Day 6 – Sigüeiro to Santiago de Compostela
3rd April 2022
12miles completed
We did it!
Overnight: Santiago Parador
The walk as you approach Santiago is a little underwhelming. You go through industrial estates and end up getting close to the city when shock – the Camino markers stop! For over 120km we had been following the famous yellow arrows and shells but as we got into the city they disappeared.
We actually had to ask which way to the Cathedral! As we got closer to the end of the Camino we started to meet other pilgrims all making our way to the square.
We could hear the sound of the Galician bag pipes playing and knew we were close. Under the arch and the path took us into the Plaza del Obradoiro and our first sight of the majestic cathedral.
Like many pilgrims we walked into the centre where all Camino trails end and felt a sense of pride.
After a few photos and a look around it was time to get out compestala – our certificate.
So a walk to the Pilgrims Office, where we registered online and joined the queue. On arrival at the desk I presented my credentials document with all the stamps added since our first one at Ferrol and as presented with my certificate in Latin.
I felt overcome with emotion and satisfaction and could only Marcel at the pilgrims from all over the world who were waiting to collect their certificates. Many had walked hundred of kilometres and some had walked through a few countries to replicate the pilgrims of the past.
As a special treat, to celebrate my big birthday and completing the Camino we had checked into the Parador hotel.
The hotel was stunning and our room was amazing. After enjoying the experiences of basic but clean pension and albergues we really enjoyed our time at the parador.
In closing the chapter on our Camino we asked our fellow pilgrims who we had come to know quite well to join us for a farewell drink.
It was truly a memorable occasion.
Closing thoughts!