Motorhoming for the first time – Marseille, RWC 2007
In France in 2007, we fulfilled an ambition to hire a motorhome and experience the freedom it can bring. We combined this holiday with tickets to the Quarter Final of Rugby World Cup in France. We would be seeing England v Australia and we couldn't wait.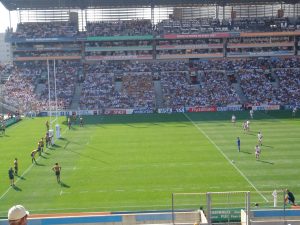 We are big rugby union fans and we're lucky enough to have spent a month in Australia in 2003 when we beat the Aussies in the final in their back yard. To be in Sydney at the game the night Jonny Wilkinson dropped kicked us to victory and watching Martin Johnson lift the world cup trophy was one our the best nights of our lives. After an epic month in '03 we wanted to see England defend the cup in France '07.
We had managed to get tickets for most of the initial group matches and visited France every weekend, watching England get thrashed by South Africa in Paris, beating USA in Lens and Samoa in Nantes.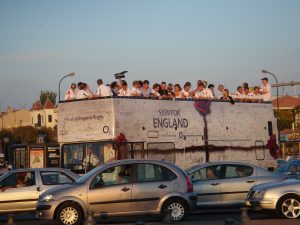 So for the quarter final we had taken a week off work and hired a motorhome to allow us to test the experience whilst taking in a World Cup rugby weekend.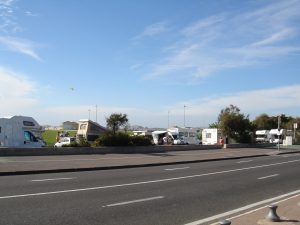 We flew to Marseille airport and a taxi ride took us to the motorhome hire company to pick up our 4 berth hired motorhome which had the double bed over the driver's cab. A quick tour around from the company and we were off! We knew we were new and naive motorhomers and did not trust (especially during the rugby world cup) turning up at sites without pre-booking. So we arranged to stay at a campsite a few miles along the Cote de Provence where we would relax for a couple of days. Then we found out a group of  Aussies were on a rugby world cup tour at the same site, so our peace came to an end. Many beers later, we had made some new friends and discovered that one of the ladies in the group was the Mum of one of the Aussie players. Of course the Aussies were convinced this match would be pay back for losing the final in 2003. At the time, I did tend to agree with them!
We moved the motorhome to a purpose built site set up for the world cup – which was a beachside car park in Marseille – walking distance to the ground. We booked in for two nights and paid our fee which covered (so we were told) security through the night. There was no electric hook up or water facilities – so after leaving the campsite, we ensured we would be ok for the next 2 days.  That included filling up the fridge and stocking up on the beers!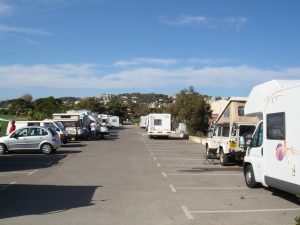 We had a wonderful two days at the world cup. I remember opening the door to our motorhome one morning and walking right past me on the esplanade were the South African team. They were in town to play Fiji. Amazing experience!  The camaraderie on the site was fantastic – experienced motorhomers, campervanners, and hirers like us, from lots of different countries. We all had a great night the day before the match, but we socialised into the early hours and slept well that night – a little too well.  At some time, I woke thinking that was someone at the door – husband said I was imagining it. The next morning we awoke to discover that someone had indeed been at the door – they had broken in to our van and whilst we were sleeping above the cab, leaned in and took my husband' rucksack and jeans. Unfortunately, in there was his wallet – complete with credit cards, driving licence and money. Fortunately I had the passport and my credit cards and money in the bed with me! There were a similar number of other people who had been robbed in the same way.
So the next day, we had to spend several hours in Marseille police station before being able to go on to see the game at the stadium. The weekend got a lot better then, as we won the game and then watched in a bar with locals as France beat tournament favourites New Zealand in the other quarter final. They never caught the thief, but the system did enable us to get the much needed paperwork in order to make a claim on our travel insurance. We discovered that a few motorhomes were broken into that night on our site – so much for the 'security' we had paid for!  
To be honest, I do not remember much about the motorhome experience of that week. I do remember the burglary vividly and after talking to experienced people found out that we could have done a lot more to improve the security whilst we slept. But as I said we were naive and happy rugby fans on tour! 
The burglary left a bitter taste in my mouth and for many years put me off wanting to hire or buy a motorhome. However, we would hire again for the next world cup in New Zealand. We would be more wise for future trips!
So this blog post was about our first experience in a Motorhome, but it also gives you an insight into another passion of ours – rugby.
I have lots of rugby related hats – not as many as our rugby related stories though, but that's for another day!
Cheers for now
Ax