We settled into the Aston Beach Hotel in Waikiki, and enjoyed a quiet afternoon drinking cocktails by the pool during 'happy hour'.
The hotel is one of many tall high rise buildings which I personally find pretty ugly and soulless! However, we wanted to experience Waikiki, the hotel had good facilities and would allow us to see the famous Beach and be close to the airport on departure day.
The hotel overlooks one end of this large Beach resort. We decided to walk along the 'strip'. There were the usual tourist style shops but also a vast number of designer shops and leading high street brand stores. I did not expect to see top quality designer stores here, not sure why I guess I thought it would be general tourist and surfing shops only!
At night we went to our third Hard Rock Cafe to get another shot glass to add to our collection from these cafes around the world (now around 24 I think). This Hard Rock had a stunning overhead display of electric guitars hanging on the ceiling and all the way up above the stairs. There was the usual artefacts from famous musicians including Elvis Presley, the Beach Boys, Eric Clapton and U2.
We made our way to the 'House without a Key' restaurant which was part of a hotel complex set alongside the Pacific Ocean.
The setting was idyllic and when we arrived a traditional Hawaiian band was playing. The singer was singing very peaceful music whilst playing the ukulele which is one of their local instruments. A former Miss Hawaii (2015) was dancing the traditional hula dance, it was lovely to watch and listen to and a real treat without having to buy tickets to specific shows. To continue with the traditional theme we had a local meal in this restaurant whilst listening to the band.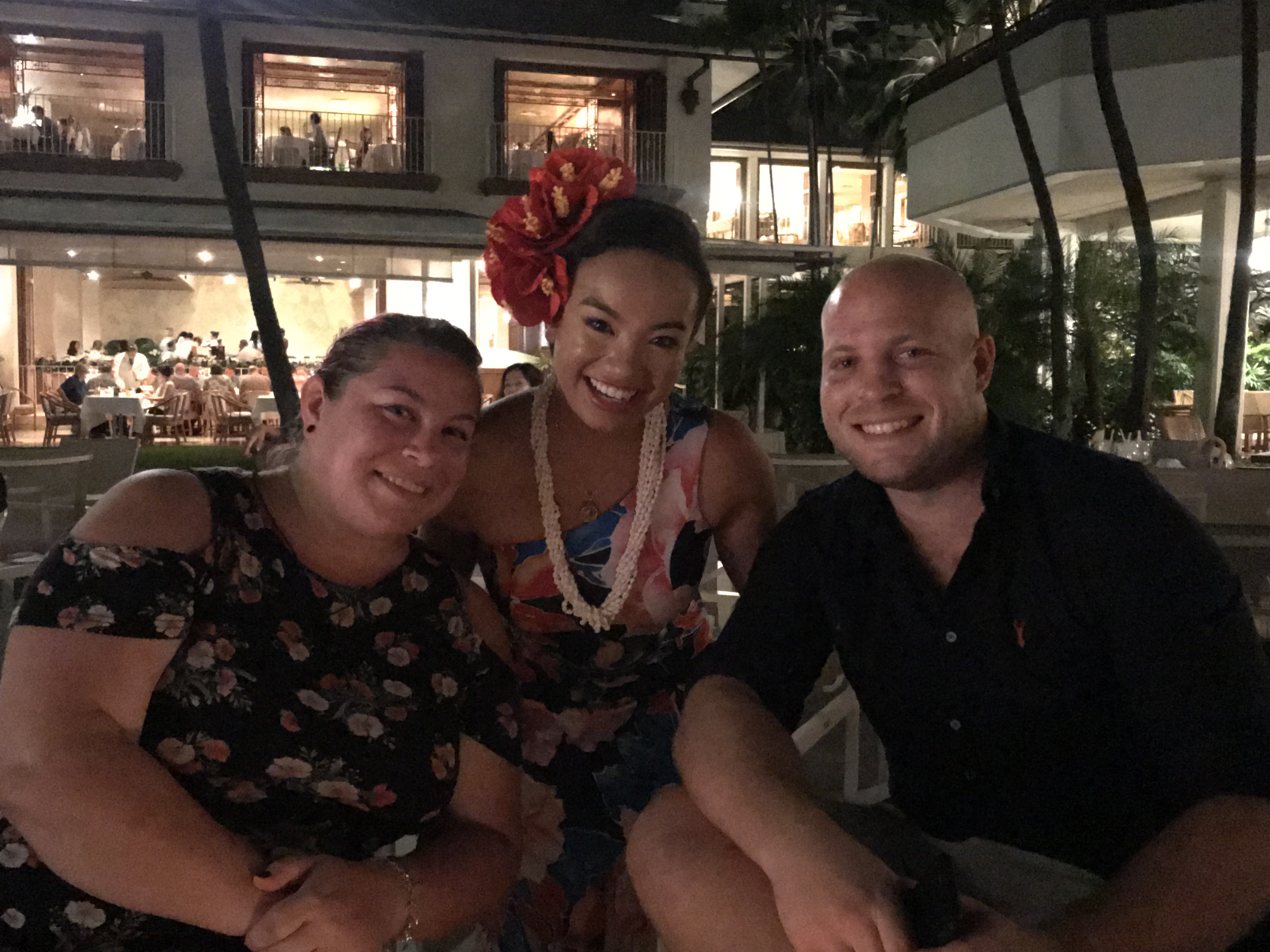 Dinner included a starter of three different fish including shrimps, yellowfin tuna and poke. I think the tuna and poke might have been raw, but wasn't too sure!! The main course was Lau Lau chicken. It was a large piece of chicken breast and bacon wrapped in taro leaves and served with a pineapple sauce and rice. It was delicious and very filling. We were not able to eat everything and felt once again rushed during dinner.
Many restaurants seem to bring the main courses the moment you have finished your starter, sometimes even before they have been cleared away, not quite the relaxed pace of dining we are used to.
After dinner we had a couple of 'night caps' in the hotel bar whilst listening to a duo of a lady singer/guitarist accompanied by a guy on an electric drum set.
We had planned a relaxing last couple of days by the pool and beach in Waikiki bit looks like tomorrow the storms may finally catch up with us!
Ax