I was particularly interested in seeing the cars around the USA, having been a fan of "yank-tanks" for many years – we used to own a 1974 Camaro back in the mid 80's. So here is a collection of some of the more interesting ones we saw on our travels, starting with our own hire cars.
Our cars
Pretty much my only role in arranging the whole 5 week trip was to select the hire car, or cars. We were expecting to do the best part of 4,000 miles working our way from Salt Lake City to San Francisco via 12 states, followed by a few hundred miles along the Pacific Coast Highway from San Francisco to San Diego.
So I felt a big, comfortable SUV would be ideal for the long haul up through the mountainous territories from Salt Lake. We were also mindful that there was potential for ice and snow on parts of the route. Initially we requested a Chevy Tahoe ("or equivalent", as they always say). I had a nervous wait as we arrived at Avis in Salt Lake in case the "equivalent" was a Toyota, or Nissan etc. 
Nothing against them but I wanted to tour the US in an American car. When we checked in, there was an upgrade on offer for a reasonable fee so we ended up with a GMC Yukon Denali – the same body as the Tahoe, but with a 6.2 litre V8, 420 hp engine. The Tahoe is only a 5.0 litre V8!! Here's the Yukon:
It was a fantastic vehicle, offering great views and comfort but more importantly, the performance was superb and effortless. Also of course it had the great V8 rumble! For such a big vehicle it handled really well and on the big American roads it didn't feel overly large. I couldn't imagine manoeuvring it around the tiny streets in our Spanish village of Monda so easily.
For the Pacific Coast Highway I went for the perhaps cheesy selection of a Mustang convertible, one of the world's iconic sports cars. The compromise was that we went for the 2.3 litre Ecoboost, 305 hp rather than the 5.0 V8 – the performance is almost the same but the cost isn't! Shame about the lack of V8 vibes though….still, it looked the part:
I have to say I haven't been a great fan of owning sports cars over the years, mainly due to the practicalities. While it was a great way to do the US1 drive, I wasn't left wanting more. We got the roof down for quite a bit of the time though which was lovely. The car itself was incredibly quick, although the turbo lag was horrendous. Put foot down, wait a couple of seconds and then be thrown back in your seat when it kicked in was how it felt! I'm glad we had it though and we both really enjoyed going topless!!
Cars on our travels
While the Ford Mustang is probably the best known American "muscle car", there are quite a few others around. Here are a few we saw when in a position to photograph them:
Chevy Camaro (a bit different from our 1974 one!)
Dodge Challenger
Two Shelby Mustangs
Corvette Stingray
We saw lots of 5th wheel arrangements, here is one of them being pulled by a Chevrolet dual rear wheel truck. We saw quite a few of these, mostly Dodge's. A vehicle style not so common in the UK or Spain!
We saw some classic cars, including some in a museum in Gillette, Wyoming:
Two 1950 Hudsons:
1959 Chevrolet Impala:
A Ford Edsel, quiet rare now as they were only produced from 1958 to 1960. Apparently Ford made significant financial losses on them, hence the discontinuance:
1950's Pontiac delivery van:
1923 Ford Model T "Turtle Back Roadster":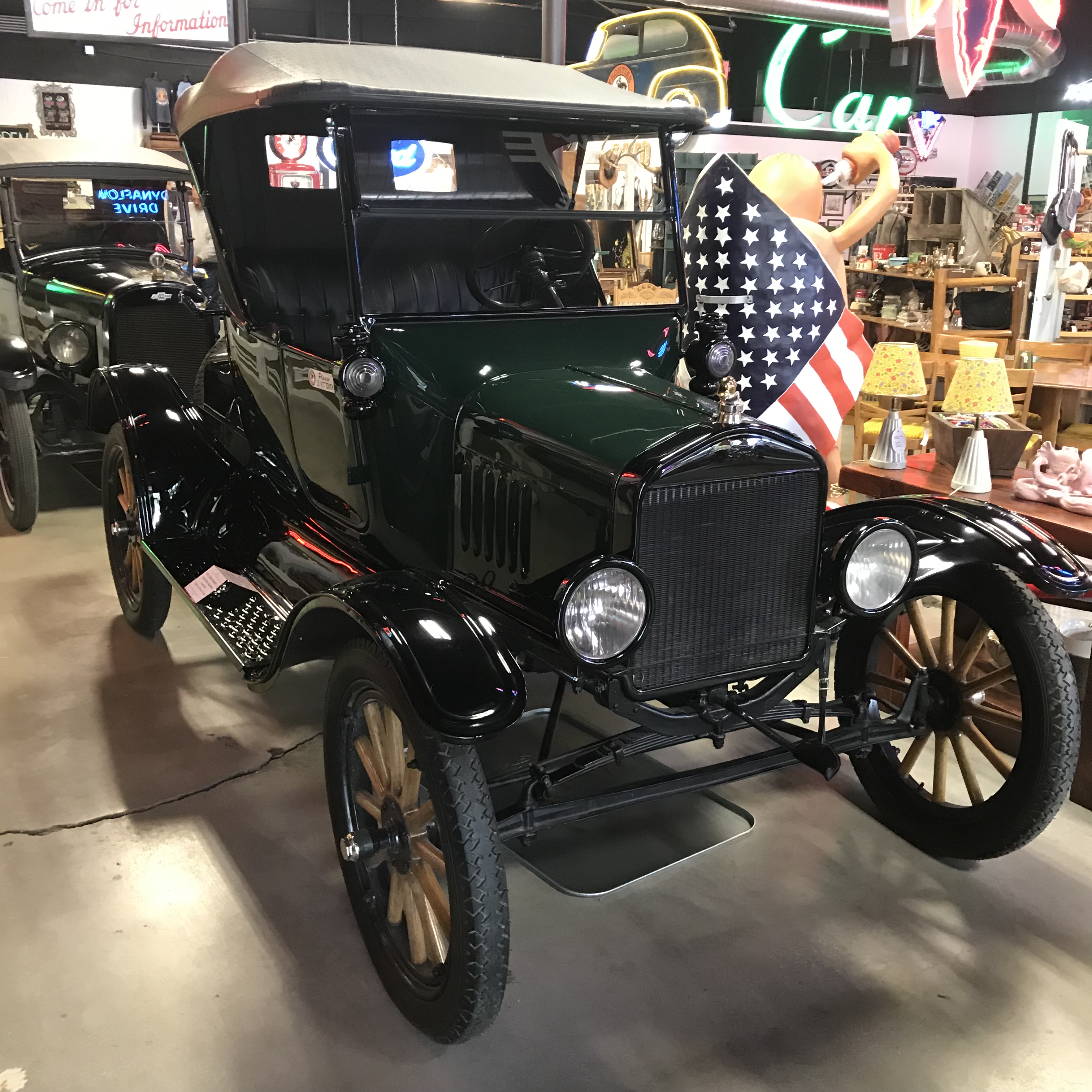 1929 Chevrolet Coupe:
It was a really interesting museum which we were glad we took the time to look round. There were a number of other interesting exhibits:
On the road, we saw a few other classics as well. Notably, we came across two club runs, one on an original stretches of Route 66 in New Mexico, west of Albuquerque, a collection of 1950's Ford Thunderbirds, which also had a 1965 Mustang travelling with them, A group of really friendly, enthusiastic owners.
It was wonderful to see these 'T-birds'
The next day, at Monument Valley, on the Arizona/Utah border, we came across a collection of E-Type Jags (or Jag-waaar XKE, as it is known in America). These also had one different model along with them, a 1950's Jaguar XK150:
Other than these, we didn't see as many classics as I expected. In particular, I thought we would see a lot more in California but this 1964 Cadillac DeVille was one of the few I got close up to, in San Clemente:
This was an interesting car, a 1960 Ford Thunderbird. Ford's designers obviously took the iconic T-Bird in a different direction after the 1950's models we had seen in New Mexico – the only similarity in appearance with this one is the name! We happened to see this one parked up at a viewing point stop on the Pacific Coast Highway just south of Monterrey. The owner had only had it for about 6 months and bought it to go on leisurely road trips with his girlfriend (who was with him and seemed happy with it!) They were both very proud of it and chugged off happily after showing me round it.
There were also a couple of specialist vehicles up in Cooke City, Montana that looked interesting:
The car-spotting really added to the trip for us, especially given our interest in American cars that goes back to the early 1980's as I mentioned earlier. I reckon that Yukon would look and sound good in Hose………
Here is a complete picture gallery of the cars we hired or spotted on this big USA trip