Amazing!
One word to sum up our weekend in Cadiz visiting during carnival week.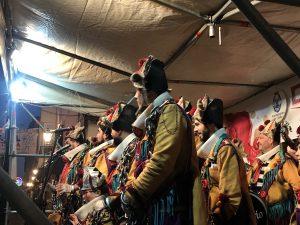 Cadiz carnival is known throughout Spain for its sense of humour and level of fun. There are organised acts appearing on stages throughout the city, but this was nothing compared to the number of acts appearing randomly throughout the little cobbled streets. Whilst I didn't understand much of the Spanish in the lyrics from the singers, it was not difficult to get some of the meaning. The costumes, the faces and the 'choirs' were fantastic, the entertainment and sense of fun was nothing like I have ever seen before.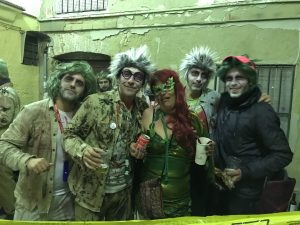 Acts included groups of people dressed up as painters (complete with paint tins on their heads), nuns, ghouls, workmen, turtles, cigarettes, animals and the old spanish conquistadors. Visitors to this fantastic carnival also got into the spirit and most people were dressed up in some crazy or not so crazy costumes. Our group included Spiderman, Batwoman, Poison Ivy, an Octopus, Darth Vader, Princess Leia.
The carnival lasts a full week and we visited during the middle days, which local Spanish friends told us was a good time to go, as it would not be as busy as the last weekend. Even so, bars were heaving and there were a number of stall holders selling cans of beers outside. I am not sure I have ever seen so much alcohol consumed in one place in Spain, but the Spanish know how to party and this was one hell of a party!
Whilst in Cadiz, we did take in some of the popular tourist attractions including: the cathedral, walking along the old harbour walls, and the beaches. A 'must do' in Cadiz is to go and sit by the old harbour (get there early) at La Caleta beach at one of the cafes/restaurants right on the front and watch the sunset. We were lucky, we managed to get a table and we saw fantastic sunsets two days running.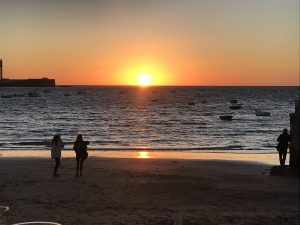 We stayed at a great central location with an underground car park, in an apartment complex. The Plaza de la Luz offered different size apartments (including studios, 1, 2 bedrooms) and allowed us to take our own refreshments and be able to nip back to change into our carnival costumes when the evening fiesta started to kick in.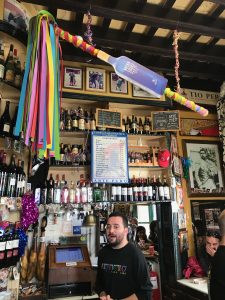 I would recommend a visit to the Taberna Casa Manteca bar founded in 1953. The bar has a quirky eclectic mix of decoration including pictures of famous Spanish bull fighters and is famous for its meat tapas which includes a selection of cured meats.
Our group loved Carnival in Cadiz, it is a great city and the people were so friendly. I look forward to going back sometime in the future. And for anyone thinking of going to the Carnival – go!! I have uploaded a few videos from the Carnival which I hope gives you a flavour of some of the mad, fun groups of entertainers we saw. I have also attached some images below from our memorable trip, I hope you enjoy looking at them and it stimulates you to wanting to go.
Cheers for now
Ax