This was our first journey in KEN, so I double checked everything was 'just right' before we set off. I did have a 'Captain Paranoia' moment on leaving our village, did I have the passport, my phone, my mask, my house keys, money, etc, etc. And had I shut all the cupboards, drawers to stop anything falling out at speed??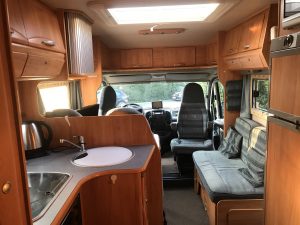 I also set up the dash cameras – one in the front and one in the rear, I think these are a great tool and God forbid, should any accident occur as you do have a record of what happened.
We left our small village in Leicestershire to make our way down to Kent. I set our new sat nav system (an Xgody 7″), having pre programmed the dimensions of KEN.
We didn't want our normal Sat Nav (Google maps) taking us down small country roads! Although I did know the route, it was good to see the sat nav was working on our way to the A1. We did have a couple of small issues en route to Kent; one where the motorway entrance was closed and the diversion signs ran out and another, when we took the wrong turn and ended up on a small country road, it was user error and not the sat nav's fault (tip to self, make sure you follow what the sat nav says)!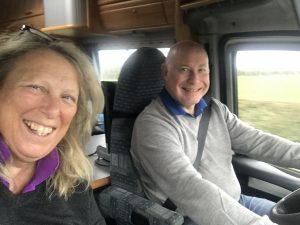 We had a spectacular view of the Thames as we went on the Queen Elizabeth ll Bridge at the Dartford Crossing and the traffic was flowing nicely (in our direction), it was very busy the other way – well it was a Friday afternoon. Using my phone, I logged on an paid for our Dart toll, worth reminding people that there is the official site to pay this on charge, rather than some other sites which will take a fee to pay your toll charge for you. Dartford Crossing Video
Originally, we had planned to stay on the front at Deal, either around Sandown Castle area or anywhere we could get from there to Walmer*. We were using our new apps, 'search for sites' and 'park4nights', but we were told that spaces fill up early in those places and we were planning on arriving quite late. Fortunately, through a local contact of my mum's in the area, we were able to stay on a piece of land at a local farmer's place. It did cost me a pork pie from Melton Mowbray, but that was fair exchange!
*Walmer council has recently banned motorhomes from parking on the front, apparently too many motorhomers were leaving rubbish and were noisy, such a shame as it is a great spot.
So our first night 'wild camping' or off grid camping, would be in the Kent countryside with farm machinery and cows as our neighbours. We were looking forward to using KEN away from any electric hook up, and double checking everything again, before we set off to France.
We put the 'overnight covers' on the cab windows and settled in for the evening. I had prepared many meals in advance, so after a light dinner with my mum and a couple of drinks, we turned in for the evening. Tomorrow would be a long day, but one we very much looked forward to – our first trip with KEN on the continent.
The next morning, after taking down the overnight covers, we left the farm for the thirty minute drive to the Tunnel at Folkestone. There was another road closure in Folkestone, which saw us take another diversion, but it did not delay us more than a few minutes and we had plenty of time (always worth giving yourself extra time for the unknowns that can occur), as we hate to feel rushed.
After driving through to the entrance of the terminal and showing our passports, we were directed to the checking area. All motorhomes are checked to ensure that you have turned your gas off. We had a very friendly Kentish man who checked our KEN and told us how much quieter life was since the Coronavirus. He said they were going to be laying people off – another horrible sign of the times. We wished him well and set off to park up waiting to board our train.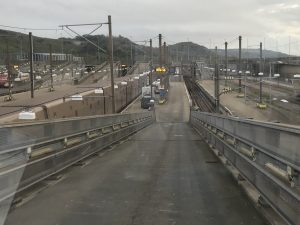 Like a few other motorhomers, we parked up and had our breakfast whilst waiting. We prepared for France, but putting on the light deflectors on the front lights, put our toll tag 'bip and drive' widget on our windscreen and changed the sat nav to French times and programmed our next destination – Rouen. Like reliable Swiss clock timings, we boarded our train which left on time. During the half an hour crossing we were not allowed to leave our vehicle (again a new Covid restriction), but that didn't bother us. We had the chance for another look over the maps and check our route.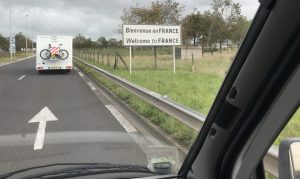 We disembarked seamlessly in France and before we knew it we were on the A16 out of Calais and the Eurotunnel terminal on our way to Rouen. We hadn't pre-booked where we were staying that night, we were just going to see how the roads were and how we felt.
Our latest adventure had begun!
Here's to the next post, cheers for now
Ax