Welcome to our blog covering our adventures in KEN.
KEN is an Adria Adtriatik, 650SP Coral motorhome, built on a Fiat Ducato with a 2.8 diesel engine. We are KEN's second owner, he had been previously cared for by a family who spent a lot of time travelling and living in Europe. Hence the left hand drive model, which appealed to us as we wanted to do the same. Although we do plan to tour the British Isles as well, we are not worried about the thought of driving a left hand model on the 'wrong side of the road'.
We had agonised over whether to buy a motorhome or a caravan, there are pros and cons for both. But what clinched the motorhome for us was the freedom (especially in Europe) where you can stay at aires (motorhome sites) often for free and without having to pre-book. Caravans require you to book in advance and turn up by (and not leave before) a certain time. We didn't want those restrictions.
We had hired motorhomes on two occasions in the past; one in France for the rugby world cup in 2007 and one in New Zealand for the rugby world cup in 2011. (We are big rugby fans, as well as travelling it is another one of our passions, so it was great to combine both). We had enjoyed the motorhome experience in the past and renting had given us an insight into the style of motorhome we would want should we ever own one.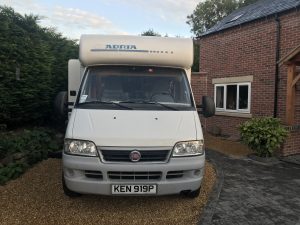 KEN was our name for the motorhome, it seemed fitting, after we put my late father's personal number plate on the motorhome, the name was set and it was a fitting tribute for my Dad, who had always loved travelling.
We look forward to sharing some of the lessons we have learned as new motorhome owners, the great places we have visited (and the not so great) and hearing from others with recommendations on the way.
Until the next time,
Cheers for now
Ax