Lockdown had opened up and we were out in KEN. It was April and unusually for England the sun was shining and temperature was quite warm. So we decided on a spur of the moment to keep driving (that is what I love about owning a motorhome) and head for the coast. Skeggie (Skegness) as they say in Lester (Leicester) was our destination.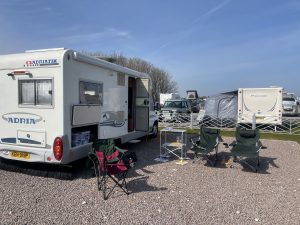 A quick search on the search for sites app and I found what looked the perfect place. Skegness Sands, a park site for touring and static caravans. A much bigger site than we had stayed on before, but the location was a very short walk to the beach and close to amenities. We thought being out of season and with the pandemic restrictions still in place the major holiday park and hotels were unable to open so Skegness would not be busy.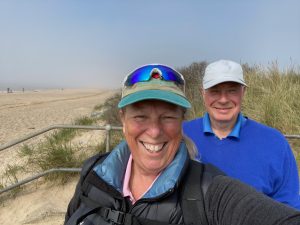 It was lovely to see this seaside town in pleasant weather and especially, for once, not windy!!! We easily found a pitch close to the exit gates and were soon parked up and off to explore the area. We took the footpath along the coast and Skegness golf course. The coastal path took us into Skegness passing the pier, a crazy golf course, a boating lake and various other amusements. Coming out of Skegness the land turned into an unspoilt stretch of coastline. We had arrived at Gibraltar Point which runs from the edge of Skegness to the mouth of the Wash.
We turned back and walked towards Skegness town as I wanted to get some fresh seafood for dinner – when in Rome and all that! We returned to the caravan site after a walk of around 12 miles.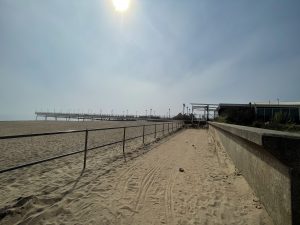 The next day, we decided to walk in the opposite direction along the coast to Ingoldmells. It was a different walk and one we found quite interesting although in an unusual way. After about half a mile we then walked for what must have been about 4 miles and we just walked past static caravan sites are another – apart from the approx 1.5 mile section which was Butlins holiday park. It was all closed down due to the pandemic, but we could not get over the scale of the complex – it was huge! Eventually we came to Ingoldmells and found a few bars open right on the sea front. A quick drink and rest of the feet and we turned around to go back to KEN.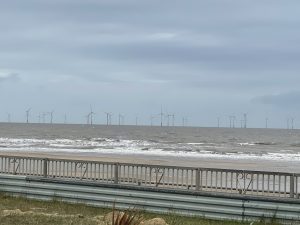 We decided to have a take away that night – there were many places around, but unfortunately due to the pandemic – not many were open!!! But we did find the one place open and enjoyed our meal.
The next day the weather turned and the East Coast winds came in with a vengeance! It was not weather to sit out in or enjoy a walk along the coast – you were more likely to be blown over than walk! So we set off home after a very enjoyable couple of nights.
The cost of the caravan site was £42 for the two nights in April 2021 and included full EHU and facilities. If the weather was looking good, we would go back again as it was a great location, although I would expect in normal times (non pandemic) the place would be much busier.
See the gallery below for pictures of our trip to Skeggie.
Cheers for now
Ax