We wanted a short break away in KEN, somewhere not too far to drive and with good walks nearby. Derbyshire seemed the obvious choice. We opted for staying around Carsington Water which offered an approx 8 mile trail around the water and a nice visitor centre and a couple of local villages nearby.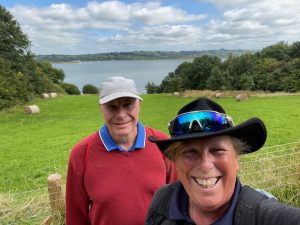 Having checked that the weather forecast for the next couple of days looked dry we booked into the Caravan and Motorhome club site, at Carsington Water.
The site was set in a small forest and looked ideal. Although the nearest pub was a 2 mile walk, we decided on this occasion to forego the opportunity to have a pub or restaurant on the doorstep and enjoy the caravan park setting. We were not disappointed. The site was quiet, despite children riding around on their bikes, they were not noisy and did not distract us from relaxing after our walks.
The site has its own woodland trail, but for the greater challenge, you can walk to the Carsington Water trail and take the 7.5 mile walk around the water. We did this and took in one of the local villages and ended up with a 10 mile enjoyable walk. In some places there were a few inclines, but generally it was a fairly easy flat walk.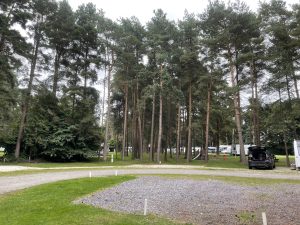 The caravan site had all the usual amenities, with regularly cleaned shower and toilet blocks, washing up stations and the usual water and waste emptying facilities. The information desk had various leaflets for attractions and things to do in the area as well as local pubs and restaurants and the ones which offered deliveries. One day we returned from our walk and the local Indian Restaurant had attached a delivery menu to KEN. What a great idea and had we not already had food prepared and ready I would have been sorely tempted.
The weather was dry, but not as sunny as we had hoped (a downside of staying in a forest as there is plenty of shade) but we had a good time.
I would recommend the site for families and walkers. It cost us £56 for the two nights (August 2021), which is the most we have ever paid to stay anywhere, but we did use very little of our own gas or water once on site and the setting was lovely. This was our first ever stay at one of the club sites and although it was on the 'not cheap' side, the facilities were very good and the staff were helpful and friendly.
Cheers for now – see our photos in the gallery below
Ax