Day 1 of our journey: Costa del Sol to England
We had planned to leave Monda in the Malaga area of Spain a few days later than we actually did, we were enjoying good weather and golf and knew that we would be unlikely to have either when we got back to England. But we had seen the weather forecast for Northern Spain, a lot of snow was on its way and we did not want to risk taking KEN over mountain region without winter tyres.
This being our last trip leaving Spain before Brexit, I hurriedly filled up on stocks of lovely Spanish cava, wine, jamon, queso (cheese) and olive oil before we left as we expect customs might not allow us to take so much next time!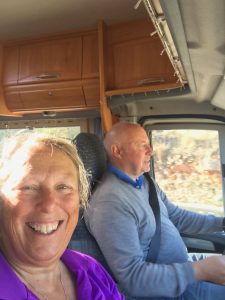 We left our house in Monda at midday, I would like to say it was a leisurely morning, but it was a case of making sure everything was clean and tidy. Due to the global pandemic, we had no idea when we would be able to return, so needed to make sure the laundry was all done and outside furniture covered and put away.
We were feeling pretty tired, so decided to have a leisurely pace allowing a few days to get to Calais. We were also unsure what the curfew restrictions in France may mean, so we wanted to give ourselves plenty of time in the surreal world that the Covid_19 had given us. We had also decided to avoid Madrid as the incidences of the virus were higher there than the Western side of Spain.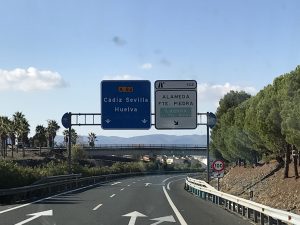 We chose to head out past Seville and see en route where we would stay over night. Not the first time, we were enjoying the freedom of being able to stay flexible. We chose the slightly longer route from Monda to Seville, being in the motorhome we decided to stick to the motorways (The A roads in Spain) and took the A46 and then onto the A92.
Having had a good journey through Seville on the way down, we were hopeful for some great scenery and some interesting sights. We were not disappointed, although we missed the views of snow on the Sierra Nevada this way, we still saw some lovely sights en-route. We did see some interesting buildings like this one we saw from the A92 near Estepa. We were reminded frequently by the signage, that our route was running parallel to an imaginary line to the west of the Portuguese border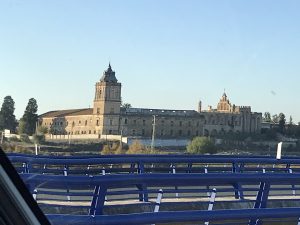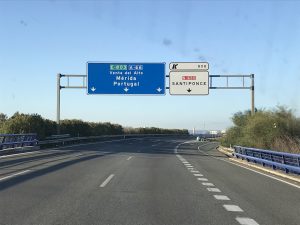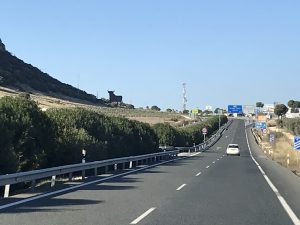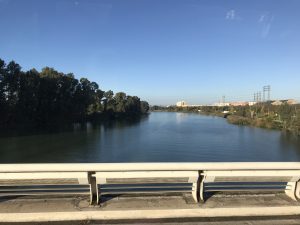 However, the journey through Seville was a lot more stop and start than the one we had coming down. Once past Seville we started to think where we should stop for the night. A quick look on the Google maps to assess timings and I found Merida would be a good option timings wise. It was just off the E803 (A66) which was our chosen route through to Northern Spain and France.
Using the various Apps and books, I came across this site which I was able to book online: https://areasautocaravanas.com/area-de-merida/ As the sun was setting we were confident that we had been able to book online and guarantee our stop, which cost us €15,00 for the night.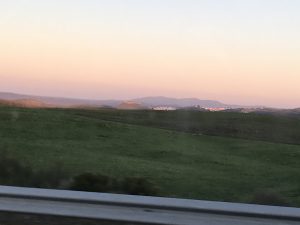 The description and feedback of the site was very accurate. Even though the site was in a large car park we did miss the sign and had to go round the city's one way system to get into it. The site was within walking distance to the old town and would make a good base for exploring the city. Unfortunately this trip was not a time for sightseeing. We arrived at the site and met a friendly Spanish man who was expecting us (the online booking system had worked). He checked his paperwork and gave me a ticket to enable us to exit in the morning. He then showed us where we could park up for the night. There were a number of spaces at the far end of the car park dedicated to motorhomes with charging points. There was one other motorhome there when we arrived. The car park was also a bus station and at around midnight and 6am, the buses were busy coming and going. I didn't find the noise too distracting but some might.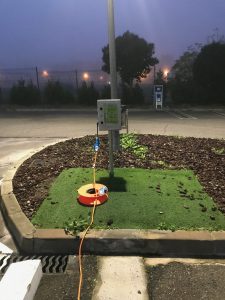 We got plugged into electric hook up, had a meal and settled down for the night. We had a few miles ahead of us and were unsure what may lay ahead as the world was changing daily with announcements of closed borders and quarantines.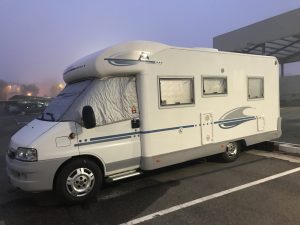 Day 1: Journey completed
248 miles journey time 6 hours
The next journey would take us through Northern Spain on our way to France.
Ax