Day 2 of our journey: Costa del Sol to England
We left at 8am, when everything was still very dark and foggy, but wanted to make good progress and get through Spain and the Pyrenees before the snow arrived. We could then take a leisurely drive through France.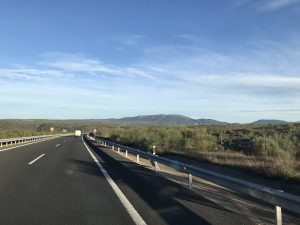 Our journey on the toll free motorways would take us from Merida, towards Salamanca on the E803 and then the E80 to Burgos where we would pick up the AP1 toll road to the French border. The normal, fast route from the Costa del Sol would be to Madrid, but with high instances of Covid we wanted to avoid the big city and travel on the quieter roads.
Once the sun came up we had wonderful blue skies and once again had some great scenery on the quiet roads. Driving on these open roads is easy and the miles just fly by. The frequent bulls are always a welcoming sight on the road.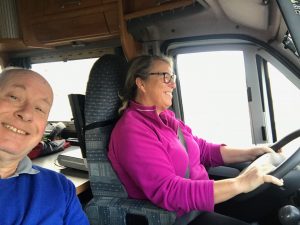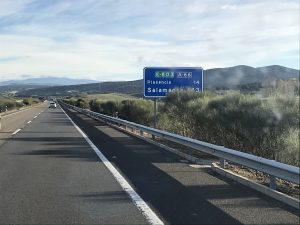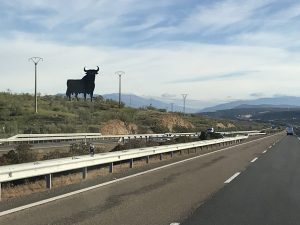 One notable scenic point included the Lake close to the spa town Baños de Montemayor is famous for its Roman baths and would make a great location for an overnight stop. (Maybe next time!)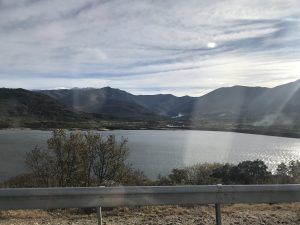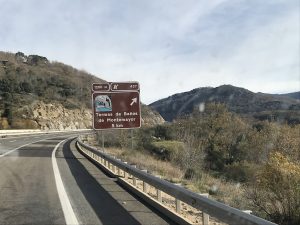 Before we crossed the border, we filled KEN up, fuel was 33 cents a litre cheaper than in France. It gave us time for refreshments and to complete all relevant Covid paperwork in case we were stopped by the French customs or Police. We needed a declaration of why we were travelling through France, copies of our tickets to the UK and confirmation that we had no covid symptoms.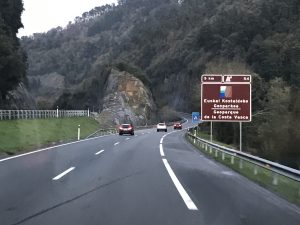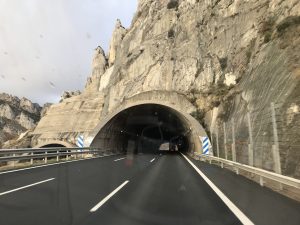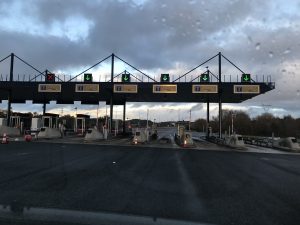 We crossed the border at 17:45 and thankfully, we were not stopped and merely carried on to our destination for the night.
We made our way past Biarritz towards Labenne. I had found camping carpark in labenne by using our Aires of France book and the wonderful search for sites app. We wanted a location not too far off the motorway, where we could have electric hook up and a peaceful night. It was perfect. I am sure in the height of the season this site will be fully booked as it was walking distance to the Atlantic ocean. However, it was less than half full so we had our pick of where to park up. It cost us €11,66 for a night at this camping-car park site.
We didn't get chance to explore the location though, as it was getting dark when we arrived and the next morning it was pouring with rain and blowing a gale, just proving that this trip was more of a journey than an exploration!
Day 2: Journey completed Spain to England
498 miles journey time 11.5 hours
The next journey would take us on what we hoped would be a leisurely drive through France.
Ax