Day 4 of our journey: Costa del Sol to England – via Eurotunnel
We had gone to bed the previous night disappointed that we had not been able to amend our crossing, which would mean spending another day in France. Normally we wouldn't mind that option, but with Covid and curfews it was not a pleasant option.
I couldn't sleep so kept checking the Eurotunnel availability through the night in case there were any changes – maybe some cancellations would give us a chance of an earlier crossing. At around 2am, the website showed availability for crossings from 10:00 hours!!! I woke Chris up and we agreed to book the 11:20 crossing. A couple more hours rest and we left at 04:00 to ensure we did not miss the crossing! We felt we could also sleep or rest for an hour once we had checked in!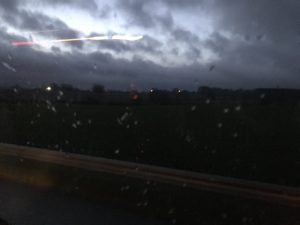 The advantage of setting off so early was that we had very little traffic on the roads and arrived in Calais earlier than we had anticipated.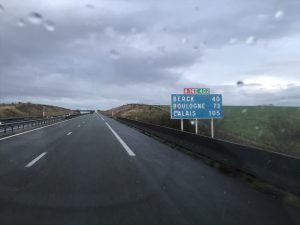 It gave us chance to visit our old favourite store for picking up some good deals on French wine. I have been visiting this place for over 30 years and it used to be called Franglais now known as Calais Vins. So a quick visit to buy their deals of very enjoyable 10Litre wine boxes (ideal for quarantining and Christmas coming up) and some more civilised bottles including champagne. Again, who knows when we will be back in France with Covid and with Brexit we anticipated not being able to have such a generous allowance in future. Franglais is just off the exit 44 on the A16 close to the Eurotunnel terminal.
We left Franglais (duly rattling with bottles) and made our way to the terminal. Whilst on the A16 we saw a big queue of lorries and we were concerned that we would have to join them in queuing to the terminal, but we realised this was for the freight train, so we managed to overtake them and made our way in good time to have a bit of a rest before the crossing. The weather was awful, blowing a gale and torrential rain, we were glad we were going under and not over the English Channel!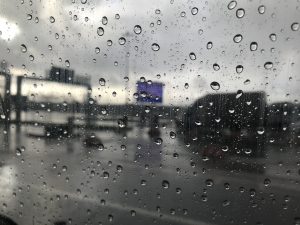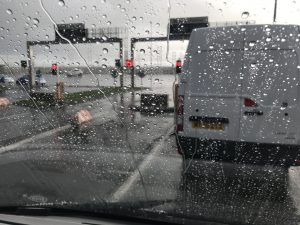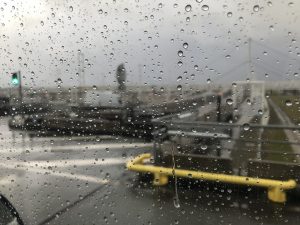 Eventually it was our time to 'load' and we made our way into the rail carriage.
The Eurotunnel is such an efficient way to cross the channel. There are a couple of checks as well as the normal passport control, they check your gas bottles are off and that we had the right forms for our no Covid declaration. The French police did check on board that we were not hiding anyone. I guess the next time we travel things will be different because we won't be in the EU anymore. We will have to see what that means. But this time there was no problem with my fridge full of Spanish and French cheeses, hams, pates etc. Not to mention the wine and beer!!! After the passport and customs checks we drove onto the carriage in line with the many commercial vans.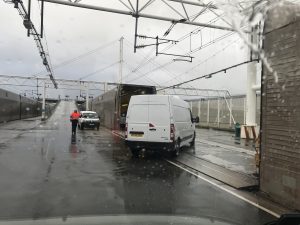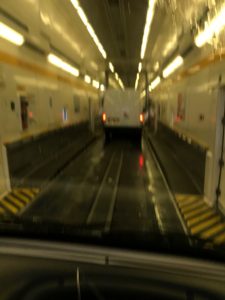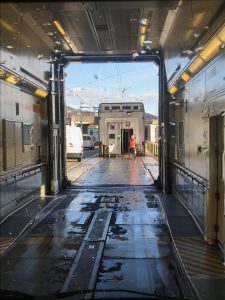 After being directly to the right distance to the vehicle in front, you are asked to turn your engine off and open your windows slightly. It was a time for us to have our early lunch as we had been on the road since 4am! In what seemed no time at all we were departing and 30 minutes later saw daylight as we came out of the tunnel into Folkestone terminal – to be greeted that snow was on its way!!!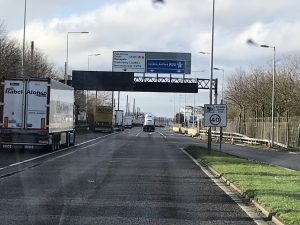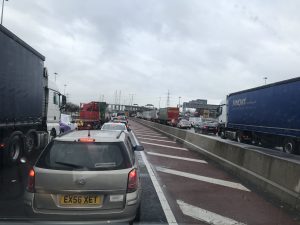 Within 5 minutes of getting onto the M20 we heard that the motorway was closed, so we took an alternative route to get onto the A2/M2. This is so typical that after over 1,000 miles of no problems through Spain and France within 5 minutes in the UK we had hit a problem. The first of many on the way back to Leicestershire.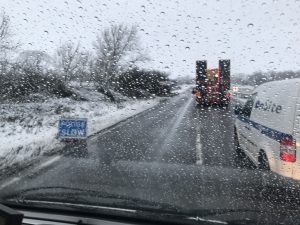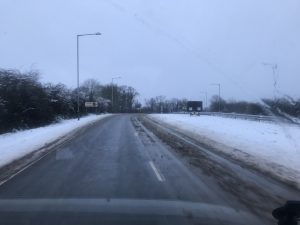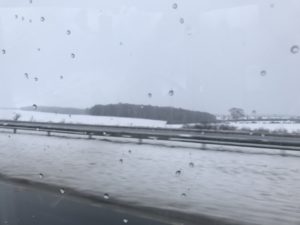 The journey back was terrible, with the roads being affected from snow and accidents. We took it easy and KEN performed well in the awful conditions and eventually, we found our way back home!
Day 4: Journey through France to our home in Leicestershire
457 miles journey time 12.5 hours (included shopping time in Calais, waiting at the terminal, crossing on Eurotunnel, road closures and traffic jams in England due to snow!
Driving time = 3.25 hours from Gacé to the Eurotunnel Calais terminal
Driving time = 5.25 hours from Eurotunnel terminal in Folkestone to our home should have been less than 4 hours
We were both exhausted, but home and wondering what the next few weeks would hold with regards to Covid and Christmas. Our planned journey was to visit our son in KEN for Christmas, but it soon became obvious that was unlikely to happen.
So KEN sits parked up as we move from quarantine to lockdown and we wonder when we can have our next adventure in him!
Until the next time
Ax