Firstly make sure you have considered the style, layout, size and shape motorhome that is right for you (check out our blog post choosing your motorhome).  Visit as many as you can to get a feel for the different layout offered and the quality and finish you get from the various manufacturers.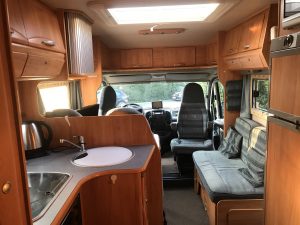 Once you know what layout your want, start studying the prices. Keep an eye on the dealers websites, specialist motor sites like autotrader, ebay, facebook, members' forum websites. You will start to get a feel for the market price (how much they are charging on the model you want for the age and mileage) – and if you identify something seems too good to be true – it probably is!
Once you have closed in on the motorhomes that appeal to you arrange a visit. Many people strongly recommend a hab check prior to purchasing – that is an excellent idea, but may not be possible. We bought privately, and these are some of the things we looked at when we viewed motorhomes.
Engine and motor related:
Look under the body – what is the condition like – any rust?
Check the VIN is the same on the paperwork and the engine
Check the MOT history online to see if the records match with the paperwork, and if it has had any serious advisories or fails
Doors and windows: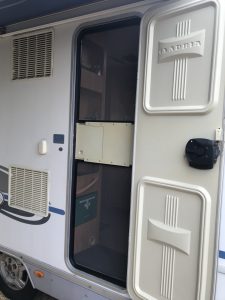 Check the seals on windows and doors – open every window and door and check
Check all the outside garage spaces – do they open easily? Close and lock properly?
Does the step come out and go back in properly
Damp:
Take a damp meter – take some readings and assess condition
Lift any bedding up and check under the mattress – are there any signs of mould or damp?
Check in bathroom around sealants – any sign of mould or damp?
Check everything functions as it should:
Open every cupboard – feel inside
Turn all the taps on – check water works – no leaks
Turn the cooker and hob on – check it all works
Ask to see the fridge and freezer on and all other electrics – lights, air conditioning, etc
Flush the toilet – check for no leaks
Does the awning wind out as it should?
Do the chairs in the cab swivel easily?
Do the cameras (eg parking or rear view) work?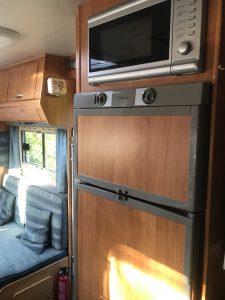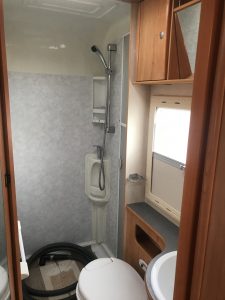 Ask lots of questions and view paperwork:
Try to gain a greater understanding of how long the owners have had the motorhome, when and where they had bought it, where they had been, etc.
Check any paperwork – a motorhome that has been well cared for and looked after by the owner, is likely to have copies of any manuals for equipment, all the receipts, etc.
This is my list, I am not saying it is complete, these were the things we looked for. I hope you find it useful. If you have any other comments or items I should add in, please let me know.  You might also like to read my page on buying a motorhome.
Thanks for now
Ax