Day 2 journey: France to Spain
We had decided to travel through France with only one stop due to number of Covid_19 Coronavirus cases increasing in France. Although we felt safe in KEN, we were concerned that the borders may close and we wanted to get to Spain, to our Casa Goodwin, before the situation changed.
We had a leisurely morning and set off at around 10:00. Our route would take us from Poitiers past Bordeaux on the A10/E5 before picking up the A63 onto the border area. We reached Bordeaux being a Sunday, by 13:00 hours we had navigated our way around the ring road (N230 and A630) to be on the road to Spain (the A63/E5/E70), we were only 3 hours from the border.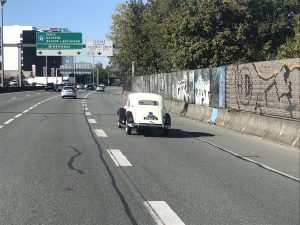 We left Poitiers with the intention of perhaps staying the night just inside Spain. We set off for St Jean de Luz, a French seaside town close to the Spanish border. We then planned to drive along the Corniche Basque, which looked like a wonderful drive along the Atlantic coastline. We had driven past this area a few times before in our car, but always on the toll roads rushing from Spain to France or vice versa, the destination was always our goal. Now for once we had time to see a bit more of the area and enjoy the journey. And even better the sun was shining. I cannot tell you the number of times I have driven from Bordeaux over the Pyrenees into Spain in pouring rain with very poor visibility, the fields are very green around this area and that is due to the levels of rainfall it gets!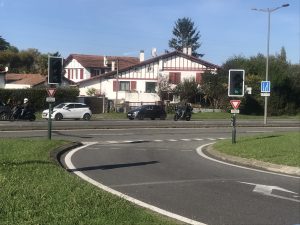 As we got close to St Jean de Luz, we came off the toll road and made our way to a motorhome parking site to stop for a late lunch and to have a stroll around this coastal resort. Unfortunately, it appeared that everyone from the Bordeaux region had come out as well. We found ourselves in a massive traffic jam, all the parking was full and we had to keep driving, through this busy small town. For once my tour skills had failed me and this supposedly good idea, caused the driver a lot of concern and although his language was not too blue, I could tell he was not happy. The area did look lovely, the views were stunning and the little towns would have provided a good stopover area, tip for the future get there early in the morning and spend the day there, before the crowds arrive, and avoid a week-end day!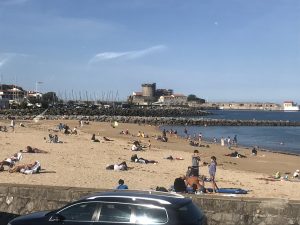 The drive took us along beachfronts and small resorts, lovely rugged coves leading down to the sea, cliff top walks all with the mighty Pyrenees mountains in the distance. The buildings reflected more of an Alpine feel rather than the traditional playas of Spain or plages of France. I would definitely like to explore this area in the future.
Crossing the border was a non-event, in fact I didn't even see a sign. I know that on the motorways there is a large sign saying Spain, but on the old coastal road, we must have missed it. It was only we passed a Repsol garage and noticed the fuel was cheaper that I realised we were in Spain! At that stage, I changed our book and maps from France to Spain and the tag system to the Spanish one.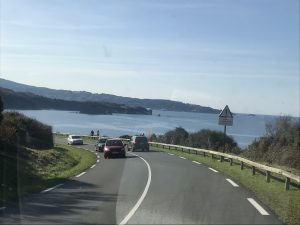 Having driven into Spain and stopping for another refreshment break, we changed our plans. We checked the weather forecast and storms were due at our house in Spain in a couple of days. As we live in the campo (the countryside) and have a non-adopted rough track to our house, we decided we needed to get there before the rains came. Taking KEN down the track during heavy rains was not something we would want to do, unless we had to. So with two drivers, we felt we would get some more miles under our belt to ensure we could get to Monda two days later. So we pressed on further and I took my first proper turn at the wheel. I did not mind driving, but the wind was getting up and on the numerous viaducts we came over, I feel KEN moving around a bit, so it was a case of taking it slowly and easily.
As the light was drawing in, we were treated to the most spectacular sunset, it was a real treat after all the wonderful scenery we had seen that day and was a fitting end to the day.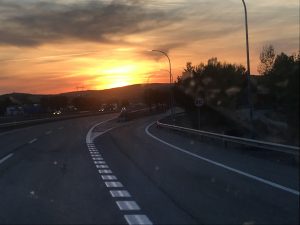 We decided to to stop for the night somewhere between Burgos and Valladolid, and found our site, just off the motorway by using the Park4Sites app and it would be perfect for our needs.
Not for the first time, was I grateful that we had bought a motorhome and not a caravan, we would not be able to be so flexible with our plans in a caravan as everything would have to be pre-booked at campsites.
Stopping overnight at Quintana del Puente this free motorhome area (provided by the local town hall), was practical rather than a pretty site, it was clean and had everything we needed. It was really quiet, in fact it was only the next morning that I realised it was dead quiet as we were next to the cemetery!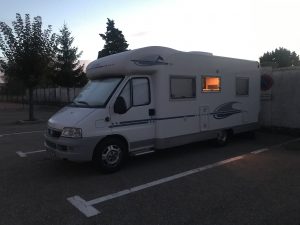 We were happy to be back in Spain, where we have better language skills and are more familiar with the culture. After parking up, we had quick meal and watched the rugby European Cup final Exeter versus Racing Metro. It reminded us of Leicester Tigers' glory days when as passionate fans we would tour Europe following our beloved team. How times had changed, even with COVID, for us there would be no rugby celebrations or tours, but we enjoyed the game and were pleased with the result, well done to Exeter.
After the game, we turned in for the evening, we were both tired, it had been a long day, but we knew we had broken the back of the journey. Tomorrow we planned to get to Seville area on our journey onward to Monda in Malaga.
Our journey took us along the toll roads in France, stopping at the occasional motorway aire, where we could stretch our legs, but remain socially distanced taking refreshments in KEN, our motorhome. Crossing the border, we went on the Basque corniche road and then picked up the motorway system again towards Burgos.
Summary – Poitiers, France to south of Burgos, Spain
Miles from St Cyr to Quintana del Puente = 497 miles – including a tour around the Basque Corniche
Driving time including stops and traffic jams! = 10 hours
Toll charges = €61 in France, €16.02 in Spain (from St Cyr to Quintana del Puente)
Below are some images from this leg of our journey
Here's to the next leg and getting towards Seville
Cheers for now
Ax